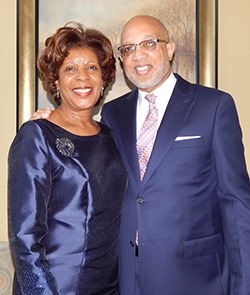 Pastor Willie S. Williams, Jr. is a native Memphian. He attended the Memphis Public Schools, graduating from Melrose High School.
After completing a Bachelor's Degree in Human Development and Learning at Christian Brothers University, he received a Master's Degree in Counseling from Memphis State University; and was later awarded a Master's Degree from Memphis Theological Seminary.
Pastor Williams was licensed to preach at the New Era Baptist Church in Memphis, TN in 1983. He became the pastor of the Ascension Baptist Church in October 1990. Under his leadership the Lord has blessed Ascension to experience significant growth, to become a ministry driven church; and to gain a reputation of being a progressive church that has not lost the personal touch.
Pastor Williams has not limited his efforts of trying to make a difference in the lives of people to his work in the church; but has also endeavored to lift lives and build communities through his employment in the public sector. He was employed with the Tennessee Department of Corrections; and later with the United States Probation and Pretrial Services System, where he retired in 2011 as a Supervisory United States Probation Officer for the Western District of Tennessee.
Pastor Williams is a member of the Memphis Baptist Ministerial Association. He has served as a Vice-Moderator with the Friendship District Association. He is also a member of the NAACP, Alpha Phi Alpha Fraternity, Inc., and is involved with a number of other civic groups and community organizations.
Pastor Williams is married to the former Shirley Ann Walton. He has three children, Talia, Nicholas and Jeremy; and six grandchildren.